Golden State Warriors NBA Draft: James Wiseman might be a bad move
Everyone is talking about James Wiseman as the clear choice for the Golden State Warriors in the NBA Draft. But, this might be a bad move.
Naturally, the highly coveted big man, James Wiseman, has found himself high on most mock drafts. It feels he is an obvious fit for the Golden State Warriors but in actuality, they should be looking elsewhere in the 2020 NBA Draft.
The Warriors could obviously use a dominant center to control the paint. Kevon Looney stands as their only true center at the moment and he has never been much of a rim protector. Wiseman's massive size and athleticism would path up this hole easily.
Furthermore, Wiseman won't have too much responsibility with the Dubs. All the rookie would have to do is rebound, block shots and finish lobs. This shouldn't be too difficult for the seven-footer.
However, where Wiseman's stock plummets are his limitations. Will he be quick enough on his feet to defend the perimeter? Or would he be unplayable down the stretch of key games? What about on offense, can he help spread the floor to any degree, or will opponents dare him to score?
Wiseman is a sound finisher around the rim but that touch quickly diminishes as he moves farther from the basket. The Warriors can ill afford to place another non-shooting big man in their frontcourt alongside Draymond Green who is already becoming a non-threat from deep.
Most of all, the league is moving away from the traditional big man at a rapid pace. The success of the Houston Rockets micro ball is speeding up this process and within a few year's time, the need for a player of Wiseman's skillset could vanish.
This is something to keep in mind not only for the Warriors' own sake but for their negotiating abilities. It's known that the Dubs could consider drafting a prospect with the intent of trading them later in the season. Taking Wiseman is a risky decision in this regard as more and more teams will consider going small if the Rockets continue their run.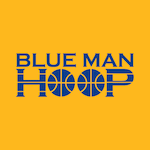 Want your voice heard? Join the Blue Man Hoop team!
Write for us!
The Warriors might be better off targetting a player like Anthony Edwards or LaMelo Ball. One that fits the direction the league is headed in. Of course, we won't truly know of the Dubs' intents until draft night finally comes in October.