Warriors Draft: Deni Avdija should be the pick if Dubs keep No. 2
The Golden State Warriors may end up using the No. 2 pick in the 2020 NBA Draft, and if they do, it should be for small forward Deni Avdija.
In one of the most important offseasons in team history, the Golden State Warriors have a top-three pick and a $17.2 million trade exception at their disposal.
While many insiders still believe the Warriors may trade the pick, Golden State has noted that they intend to use the pick. Obviously, if the right trade came along it would be an easy decision for the franchise that's techinally still been to the last five NBA Finals.
Assuming they do keep the pick and Anthony Edwards is off the board, the Warriors pick should boil down to three players — Deni Avdija, James Wiseman and Tyrese Haliburton.
Wiseman is a sound option if the Dubs was a low-floor rim protector. Haliburton would be a reach at No. 2. As for Avdija, there's so much unknown about how his game may translate to the NBA that the team should use their high-value pick.
Avdija isn't the next international phenom like Luka Doncic has become. He hasn't won the MVP of the second-best basketball league in the world. However, there is so much upside with the Israeli forward and how smooth his game is.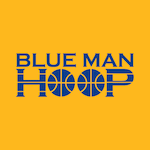 Want your voice heard? Join the Blue Man Hoop team!
Write for us!
After watching tape on the 19-year-old, it's obvious he has the Luka Doncic-style game. He's smooth with the ball in his hands and can score from just about anywhere on the court. Like with Doncic, Avdija won't blow you away with his speed.
While his shooting numbers aren't great, his basketball IQ gives him an edge on prospects like Anthony Edwards who was more just a volume shooter at the collegiate level. Avdija doesn't have the ceiling that Doncic has because his passing game isn't quite there.
He has a high floor and a low ceiling. In a draft primed with busts and without a high-potential, surefire option, the Warriors may want to go with the 6-foot-9 forward primed to a long NBA career.
NBADraft.net compared him to Hedo Turkoglu, a player that was in the league 16 seasons and averaged double figures for eight straight seasons.
An intelligent, savvy forward seems like the perfect for Golden State if they retain the pick.