Golden State Warriors: Stephen Curry would be dominating NBA bubble
The Golden State Warriors didn't get invited to the NBA bubble but it's obvious Stephen Curry would be putting on a show.
It seems like every time a guard plays good in the NBA's Orlando bubble, that player is instantly compared to Stephen Curry. Damian Lillard and Jamal Murray have both had their names mentioned with the two-time MVP recently. However, we wouldn't be hearing those comparisons if the Golden State Warriors were actually in the bubble.
The Dubs didn't receive an invitation to play in Orlando due to them finishing with the worst record in the league. This came as a relief to many of the Dubs' veterans as an extended time to recover was seen as a blessing in disguise.
But, we can't help but imagine how much fun Curry and the Warriors would be having if they were in the playoffs this year.
Many have attributed some of the explosive scoring games in the bubble due to the lack of distractions. There are no fans – therefore the pressure to perform is mostly alleviated. It's as simple as going out and playing basketball.
Under these circumstances, can't we see how Curry would be on an absolute tear right now? He is perhaps the greatest shooter in the history of the sport – once shooting 94-of-100 from the 3-point line in practice. If this is truly an open gym setting – Curry would be the best player on the planet.
Curry has shattered all sorts of NBA records with the pressure of having fans present at every game. In a scenario like the current bubble, Steph would easily be able to focus on doing what he does best – shooting.
On the other hand, we do have to acknowledge how much a player like Curry potentially feeds off of the crowd. The Warriors have one of the wildest fanbases in sports and it's obvious that the entire team is fueled by their energy at times.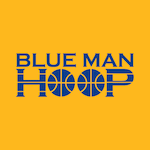 Want your voice heard? Join the Blue Man Hoop team!
Write for us!
Nonetheless, Curry would be a cheat code in Orlando. If he had a fully healthy roster around him, I'm willing to bet the Dubs would be competing for a championship right now.