Golden State Warriors: Danilo Gallinari open to signing for MLE
Danilo Gallinari has recently stated he prefers winning championships over money. This is great news for the Golden State Warriors.
The Golden State Warriors have been monitoring potential candidates to sign in the offseason. Their $6 million dollar mid-level exception doesn't give them much wiggle room but it does open the door to some intriguing possibilities.
Veteran players such as Dwight Howard, Rodney Hood and D.J. Augustin are a few of the Warriors' most obvious targets. These players all have experience and should be willing to play for less money. But, one player they never imagined would sign for the MLE is Danilo Gallinari – who recently expressed interest in winning a championship over getting paid.
Talking to Sportando, Gallinari alluded that at this stage in his career, winning is everything.
Moderator: "Is playing for the NBA Championship more important than a contract?"

Gallinari: "Yes. At this time, yes. I'm not twenty anymore."
This gives us a big reason to believe that Gallinari might not resign with the Oklahoma City Thunder as their franchise is in no position to compete for a title anytime soon. In contrast, the Warriors can offer a home for any player looking to play on the biggest stage of basketball.
Gallinari fits in easily with the Warriors. His offensive bag is deep and he is capable of creating plays at a high-level. Last season, Gallo averaged 18.7 points and 1.9 assists on above 40 percent shooting from the 3-point line.
The Dubs could use Gallinari's potency on offense to add depth to their rotation. Gallinari can potentially play small-ball forward alongside Andrew Wiggins or act as a prolific bench scorer. Either way, this is a win for the Dubs if they can sign him for the MLE.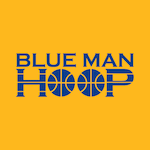 Want your voice heard? Join the Blue Man Hoop team!
Write for us!
But, would he be willing to take that big of a pay cut? Gallinari made over $20 million dollars last season alone. This would be a notable change in salary for Gallinari. However, if he truly values winning over everything else, this signing makes sense for both sides.