Lakers' redemption run should inspire Golden State Warriors
One year after missing the postseason altogether, the Los Angeles Lakers are NBA champions. This should inspire the Golden State Warriors.
We can draw some interesting parallels between the Golden State Warriors and Los Angeles Lakers. The two powerhouse teams will likely battle at some point in the near future – but what can they learn from each other?
In LeBron James' first run with the Lakers, injuries derailed any momentum they had going. The King missed the playoffs for the first time in 15 years and watched his NBA Finals streak go down the drain.
This ended up working in the Lakers' favor as they wound up with the No. 4 pick in the NBA Draft which was then flipped for Anthony Davis. Only one year later, Davis and James hoisted the Larry O'Brien Trophy after running the gauntlet and winning the NBA title.
Does this sound familiar? The Warriors experienced a similar drop to that of James' first season in LA as the Dubs failed to make the playoffs this year due to numerous injuries. Now, the team is loading up with a fully healthy roster and the No. 2 pick in the NBA Draft.
The Warriors won't be trading for anyone as notable as Anthony Davis (though fans remain hopeful Giannis Antetokounmpo will become available) but they can use this asset in some interesting ways. Pairing it with their $17 million dollar trade exception or Andrew Wiggins could bring in a sizeable return. Or, they can simply use the pick themselves.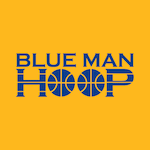 Want your voice heard? Join the Blue Man Hoop team!
Write for us!
Either way, the Dubs are in a position to reload the dynasty quickly. Much like the Lakers, they can reverse their fortunes in just a year's time. The Warriors should be looking at recent events and using the Lakers run to the championship as inspiration to come back stronger next season.