Golden State Warriors: Draymond Green is set for redemption
Much of the Golden State Warriors' success next season will rely on the revitalization of former Defensive Player of the Year, Draymond Green.
For years, Draymond Green has been the hidden driving force that helped transform the Golden State Warriors into a dynasty. Well, he wasn't exactly hidden. Though he played in the shadows of offensive superstars like Stephen Curry, Klay Thompson and Kevin Durant – Green stood out as the volatile, energetic, vocal leader of the group.
Green held his teammates to a standard of perfection that made them as great as they were. The reason this worked? Because Green held himself to that same standard. He had no shame in doing the small things, hustling for loose balls and using his body to screen off opponents. Green understood his role and played it beautifully.
Much of what Green accomplished was from sheer willpower. He played with a fire that nobody could match. Combine this with a vast understanding of the game and it's no surprise he became one of the best defenders in the league.
Unfortunately, the Green of old was nowhere to be found last season. In the absence of his star teammates, Green posted averages of 8.0 points, 6.2 rebounds and 6.2 assists. His laboring performances led to many writing him off as an overrated role player.
But, that is far from the truth. And, if all goes well, Green will prove his doubters wrong next season.
See, Green's success came from the never-ending engine inside of him. That wasn't present this year – mainly because the team around him was so lackluster that it wasn't worth laying his body on the line anymore. Once it became clear the Warriors would be a lottery team, Green was more focused on saving himself for next season.
Now, here we are. Green should be revving himself up to compete alongside Curry again. While Thompson might be sidelined, the additions of Andrew Wiggins, Kelly Oubre Jr. and James Wiseman will be more than enough to make the squad competitive again.
Green will act as the glue that holds this team together next season. Running the floor with new, athletic teammates will bring the playmaker out of Green once again. Not to mention, he has a cast of underdeveloped defenders that he can push to their full potential.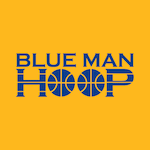 Want your voice heard? Join the Blue Man Hoop team!
Write for us!
We can expect to see a revitalized version of Draymond this season. He has had nearly 10 months to recover from a grueling five-year stretch of constant NBA Finals appearances. Don't count out Green just yet, his most inspiring performance could be on the horizon.