Golden State Warriors: Andrew Wiggins has untapped potential
Andrew Wiggins is balling right now for the Golden State Warriors, but he still has untapped potential he could one day reach.
Ah, the curious case of Maple Jordan. Andrew Wiggins, the Canadian-born Kansas alum, went No. 1 overall in the 2014 NBA Draft. He drew comparisons to Michael Jordan and LeBron James. He had all the upside in the world heading into the league. Golden State Warriors fans are holding onto hope that Wiggins has untapped potential somewhere deep down.
It's not that Wiggins is awful, it's just that he's been a strong contender for the worst good player in the entire league. The talent is very clearly there, as we've seen flashes of it throughout his career. The issue is that he rarely looks like he actually wants to be playing basketball.
His final stint in Minnesota showed that Wiggins still has plenty to offer to a team. He averaged 22 points per game on good enough efficiency. He also averaged a career-high in rebounds and assists, with 5.2 and 3.7 respectively.
He was then traded to Golden State for Jacob Evans, D'Angelo Russell, and Omari Spellman. Through 12 games with the Warriors before the suspension of the season, Wiggins averaged 19 points per game on 46/34/67 shooting splits.
Fast forward to now, and the Warriors sit at 4-4 at the time of this article. Wiggins is putting up 18 points, 5 rebounds, and 2 assists per game on career-best 41% shooting from beyond the arc. Not exactly All-Star numbers, but respectable nonetheless. We saw signs that Wiggins has untapped potential in his game that could be maximized in the right environment.
The thing that I've had to tell myself with Andrew Wiggins is that he has never played for a winning team. He has spent his entire career either tanking or scratching and clawing for a playoff spot. He has never been coached by an elite coach, he has never operated in a system with Hall of Fame talent. If anyone can make use of Wiggins, it's Steve Kerr.
At the age of 25, Wiggins still has plenty of upside. This team is going to take time to figure out the right way to utilize his strengths. It's honestly fair to say that we don't entirely know what Wiggins is capable of just yet because he's never been put into an environment where he can succeed.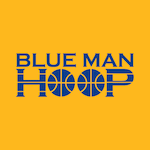 Want your voice heard? Join the Blue Man Hoop team!
Write for us!
Am I saying he's going to be an All-Star? No. But he still has the potential. He can undoubtedly be a key piece on this team as they try to retool and compete for a championship in the coming years.