Golden State Warriors can create new dynasty in 2021 NBA Draft
The 2021 NBA Draft has the potential to help the Golden State Warriors create a brand new dynasty for the foreseeable future.
The Golden State Warriors' decision to deal D'Angelo Russell to Minnesota in exchange for Andrew Wiggins and a future NBA Draft pick could potentially get even better as the Timberwolves continue to plummet down league standings.
Minnesota agreed to send over their 2021 First Round selection in the Wiggins trade. The only catch is, the Wolves ensured to protect their pick if it lands in the top three. Meaning, if the Wolves secure a pick anywhere between 1-3, they get to keep their draft rights.
This makes it look like the Dubs might be giving up the pick after all, as Minnesota is currently dead-last in the Western Conference with a 2-7 record. However, with the flattened NBA Draft Lottery odds, it's possible the pick falls out of the top three regardless of how bad the Wolves are this season.
In this case, the Dubs would have a top 10 pick in a LOADED draft class. The list of players they can target is endless, and if they strike gold, they have a dynasty in the making.
It's the perfect recipe for current stars and blooming prospects. The trio of Stephen Curry, Klay Thompson and Draymond Green will be around to help James Wiseman and whoever they select in the draft to reach their full potential. Could you imagine how sweet it would be to watch Curry pass the torch to Jalen Green, Jalen Suggs, Ziaire Williams, Scotty Barnes or Jalen Johnson (There's a lot of Jalen's this year).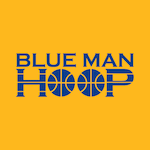 Want your voice heard? Join the Blue Man Hoop team!
Write for us!
This type of firepower for a team already on the cusp of winning another championship is scary. Depending on how long their current core lasts, it's possible we see the Dubs competing long into the decade with this upcoming pick and a promising center in Wiseman.