Golden State Warriors: Andrew Wiggins is finally breaking out
It took more than a few years, but Andrew Wiggins is finally in the midst of a breakout season with the Golden State Warriors.
In what feels like the longest build-up in NBA history for a former No. 1 overall pick, Andrew Wiggins is starting to blossom in his role as a two-way threat for the Golden State Warriors.
Longtime fans of Wiggins waited and waited for the Hoopmixtape sensation to take the league by storm. And, while it looks like Wiggins will never reach superstar level, it is reasonable to think he contends for the All-Star game soon.
Wiggins is as natural an athlete as you can be. He is fluid in moving to the rim with explosive speed and leaping ability. With an improved ability to shoot off the dribble, Wiggins has been scoring in a multitude of ways.
On the season, Wiggins is averaging 18.7 points on 48/41/73 shooting splits in his last eight games. He is excelling at creating his own shot in isolation, shooting nearly 60 percent and ranking in the 93rd percentile for this play type.
However, most notably, Wiggins is stepping out as an elite perimeter defender. His talent was on full display against Toronto, blocking four shots and putting Pascal Siakam in a prison cell to close out a one-point win.
Wiggins is using his length and athleticism to bother opponents. It's no coincidence that he is making this leap now that he is playing next to Draymond Green, who is definitely pushing the entire roster to be better on this end of the floor.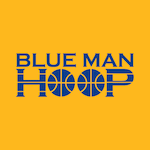 Want your voice heard? Join the Blue Man Hoop team!
Write for us!
This is obviously a small sample size and it's possible Wiggins reverts to his old self before we know it. But, this is an encouraging sign from a player who many predicted would have his best seasons with the Warriors. Wiggins will be a reliable weapon moving forward if he continues to shine as a defender and shot creator.