Golden State Warriors: Analyzing Kelly Oubre Jr's struggles
Kelly Oubre Jr. has been the biggest disappointment of the season for the Golden State Warriors – but can he turn it around?
The Golden State Warriors acquired Kelly Oubre Jr. for next to nothing in the offseason, lending us to believe the team had pulled off a steal that would help them compete for a playoff spot. The young wing was fresh off the best season of his career and was poised to take the next step towards being a reliable contributor.
Through the first few weeks of the season, Oubre has been anything but consistent on offense. He is shooting an unbelievably bad 17.2 percent on 3-pointers and 20.8 percent on catch-and-shoot attempts.
Oubre has made just 5-of-30 'wide open' 3-point attempts this season. This ranks dead last in the NBA and is the main reason opponents are able to frequently overload on Stephen Curry. The box-and-one defense is killing the Dubs and Oubre's failure to hit open shots is a core contributor.
How is this possible? Oubre is only a 32.2 percent shooter for his career, but he showed signs as a catch-and-shoot threat last year in Phoenix, drilling a decent amount of his attempts. He had a career-high year from the field, so what happened?
Well, it's hard to tell. He's attempting roughly the same amount of shots as in years prior, but most of Oubre's looks fall flat as if he's not getting enough power on his release. Could this be a result of nerves?
This is the first time in Oubre's career that he is playing under heavy expectations for a team with championship aspirations. It's entirely possible he is a bit intimidated by sharing the floor with the greatest shooter of all-time and being asked to replace the second-greatest shooter ever in Klay Thompson.
It should be noted that Oubre hasn't been all bad for the Warriors. He's one of their best perimeter defenders and he brings a toughness to each game that undoubtedly helps build their culture. He's also pretty exciting when attacking the rim, unleashing an explosive dunk every now and then to take his frustrations out.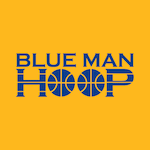 Want your voice heard? Join the Blue Man Hoop team!
Write for us!
I think we should give Oubre some more time to settle into his role. After all, he is getting good looks, they just aren't falling. While I think we have a big enough sample size through 11 games to be concerned, let's hold off on any conclusions and give the 25-year-old a few more weeks to find his rhythm.