Golden State Warriors had a subpar trade deadline according to BR
I've already discussed my thoughts on who were the winners and losers of the 2021 NBA Trade Deadline. If you missed it, I placed the Golden State Warriors somewhere in between – not really winning, but definitely not losing at the deadline.
Meanwhile, Bleacher Report released grades for each NBA team. The Warriors received an underwhelming C- in this case. Let's break down why BR felt so disappointed by the Dubs' deadline and why I feel they aren't too far off.
Bleacher Report essentially declared the NBA Trade Deadline a failure for the Golden State Warriors and I somewhat agree.
Recognizing that D'Angelo Russell wasn't an ideal fit next to the Splash Brothers, Golden State elected to flip their All-Star guard for Andrew Wiggins and a future draft pick last season. This time around, with a number of concerns around the strength of the Warriors' supporting cast – the front office chose to do relatively nothing.
As Bleacher Report puts it:
Doing nothing to improve a 22-23 roster in danger of missing the playoffs was disappointing"
Pretty much.
Choosing to stand idle at the deadline put the final nail in the coffin for the Warriors' hopes this season. They may still reach the playoffs, currently only two games back from the eighth seed but any chance of pushing themselves over the top was floundered.
But, that's not a bad thing. The most notable name traded at the deadline was Victor Oladipo and it's debatable if he would have really moved the needle for the Dubs. It was smart to hold onto their chips and wait until the summer to really take a crack at any big names who become available.
However, as BR also mentioned, it was hazardous to keep Kelly Oubre. The young wing has looked great recently but he poses a high flight-risk at the end of his contract. In the event that Oubre leaves in the summer, the Warriors will be kicking themselves for not trading him when they had the chance.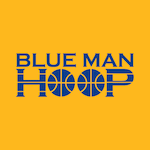 Want your voice heard? Join the Blue Man Hoop team!
Write for us!
Nonetheless, it's hard to fault the Dubs for the decisions they made at the deadline. There is no need to shake things up just yet and the additional roster spots could help them sign quality vets such as Avery Bradley and others who may soon be available on the buyout market.