Golden State Warriors: Lack of size will punish them in Playoffs
It's been evident for a while that the Golden State Warriors were lacking in size. Despite having numerous players with freakishly long wingspans — the Dubs only have two true centers on the roster and just one over seven feet.
Nonetheless, the Dubs made no moves at the deadline to acquire another big man and now with James Wiseman sidelined, they are left with Kevon Looney as their last line of defense in the paint.
This lack of size has hindered them all year long but it will truly become an area of weakness in the NBA Playoffs.
The Golden State Warriors never addressed their lack of size and things have only gotten worse as we approach the NBA Playoffs.
For the sake of argument, let's assume the Dubs manage to win the Play-In Tournament and advance to the postseason. In this case, they draw one of two cards — either the Utah Jazz or the Phoenix Suns. Fittingly, both squads have dominant paint beasts that will pose a threat to Golden State.
In Phoenix, you have Deandre Ayton, a towering young center who is averaging 14.6 points, 10.7 rebounds and 1.1 blocks per game. The third-year prospect is blossoming into a sound finisher around the rim as guards such as Devin Booker and Chris Paul look to set him up with easy looks.
On the other side of the fence is Rudy Gobert, a two-time Defensive Player of the Year who is likely en route to winning the award a third time this season. Gobert is the definition of a rim protector and someone who will make life incredibly difficult for one of the greatest below-the-rim finishers in Stephen Curry.
Either way you slice it, the Dubs are going to be outmatched down low in the first round. Yet, their troubles don't end there. With Kelly Oubre suffering from a torn ligament in his wrist, the Dubs will lose one of their best small-ball assets.
Although he lacks height, Oubre is a springy athlete who uses his aggressiveness to attack the offensive boards. Oubre totaled the 30th most second-chance points among forwards this season and recorded the second most 'contested' offensive rebounds on the Warriors.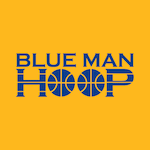 Want your voice heard? Join the Blue Man Hoop team!
Write for us!
Losing Oubre further damages an already weakened rotation. While the Warriors aren't going to be favorites to win a first round matchup anyways — it certainly doesn't help to have such a limited frontcourt available to play.