Golden State Warriors: Andrew Wiggins shifting his narrative
Andrew Wiggins was offered a perfect opportunity to reverse his career trajectory and reverse the negative narrative surrounding his game when the Golden State Warriors traded for him last year. As he concludes his first full season with the Dubs, it's safe to say Wiggins has succeeded.
Andrew Wiggins has accepted the challenge and successfully reversed the narrative around his name with the Golden State Warriors.
Prior to this season, disappointment and Wiggins went hand and hand. He entered the league with sky-high expectations only to seemingly cap out his potential as a rookie — proving to be nothing more than a streaky scorer with jaw-dropping athleticism in Minnesota.
Wiggins plateaued quickly with the Timberwolves. While some argued it was due to poor infrastructure surrounding him, there was no denying Wiggins played with a lack of energy throughout most of his time on the floor.
For this reason, many were hopeful a change of scenery would be enough to inspire Wiggins. He was given this opportunity last year when the Dubs traded D'Angelo Russell for Wiggins and a future first round pick.
Although his per-game averages haven't changed much, Wiggins' demeanor has shifted entirely. He still isn't the electric No. 1 overall pick everyone hoped he would become — but he's transitioned nicely into a 3-and-D threat who can fulfill a meaningful role on a playoff team.
I think this tweet from Connor Letourneau sums it up best:
Wiggins has been playing with newfound energy. He's among the league leaders in shots contested per game and ranks second on the Warriors for loose balls recovered. It is this change of heart that has helped make Wiggins a positive contributor nearly every night for the Dubs.
Since late March, Wiggins is posting 20.0 points, 5.2 rebounds, 1.2 steals and 1.0 blocks on 47 percent shooting from the floor and near 40 percent efficiency from the 3-point line. This is one of the most productive stretches of his career and it is indicative of his new approach to the game.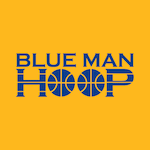 Want your voice heard? Join the Blue Man Hoop team!
Write for us!
The truth is, Wiggins is never going to live up to the max contract he was given in Minnesota. While this price tag will be an ongoing issue for the team moving forward, his role will only become more cemented when Klay Thompson returns and allows Wiggins to fill in as a third option alongside the Splash Brothers.