Fully healthy Golden State Warriors primed for NBA's newest innovation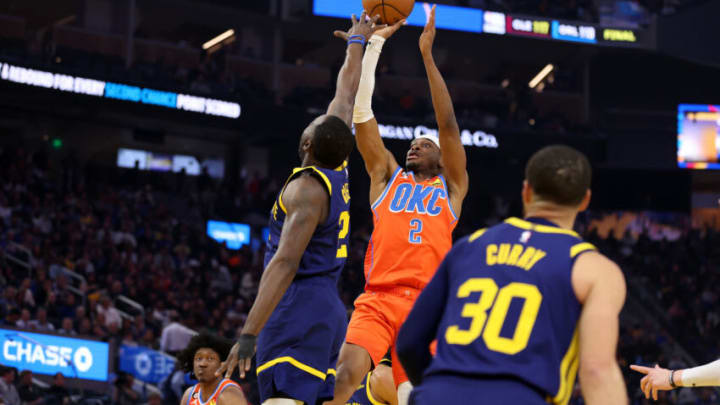 SAN FRANCISCO, CALIFORNIA - APRIL 04: Shai Gilgeous-Alexander #2 of the Oklahoma City Thunder shoots over Draymond Green #23 of the Golden State Warriors at Chase Center on April 04, 2023 in San Francisco, California. NOTE TO USER: User expressly acknowledges and agrees that, by downloading and or using this photograph, User is consenting to the terms and conditions of the Getty Images License Agreement. (Photo by Ezra Shaw/Getty Images) /
Not only will the Golden State Warriors meeting with the Oklahoma City Thunder on Friday serve as their sixth game of the regular season, but it also marks their first game of the NBA's new In-Season Tournament.
Warrior head coach Steve Kerr has confirmed his team is "going for" the NBA Cup, with intrigue surrounding how motivated teams will be for the new format. Each team will play four roster game, before those that advance move to a knockout stage starting with quarter-finals.
An incredibly healthy Golden State Warriors are primed to start their attack on the NBA Cup in a positive manner on Friday.
The Warriors have a clear bill of health with no players on the injury report. The same can't be said for the Thunder who will be without their star guard Shai Gilgeous-Alexander due to a knee injury.
It'll be a big loss for Oklahoma City who will be looking to respond from a loss to the New Orleans Pelicans on Wednesday after leading by 22 points in the second-quarter. Gilgeous-Alexander has averaged 24.8 points, 6.8 rebounds, 6.6 assists and 2.6 steals in his five games this season.
Shai Gilgeous-Alexander will be out for the matchup between the Oklahoma City Thunder and Golden State Warriors on Friday. (Photo by Ezra Shaw/Getty Images) /
The Thunder's young talent could certainly prove a handful even without Gilgeous-Alexander, with Mark Daigneault's men looking to end a three-year playoff drought dating back to Chris Paul's lone season with the franchise.
Oklahoma City are 3-2 on the season, which has included impressive road wins over the Chicago Bulls and Cleveland Cavaliers. They are only 1-2 at Paycom Center though, having lost to the Pelicans and NBA champion Denver Nuggets.
The Warriors sixth-ranked defense will be put to the test against the Thunder's size and length, bookended by 6'8″ point-guard Josh Giddey and 7'1″ center Chet Holmgren. Oklahoma City are currently ranked 13th in offensive rating and 16th on the defensive end.
The 4-1 Golden State will host the Minnesota Timberwolves (Nov. 14) and San Antonio Spurs (Nov. 24), then travel to Sacramento (Nov. 28) again in their three remaining NBA Cup games.