Golden State Warriors: Wiggins, Wembanyama share something in common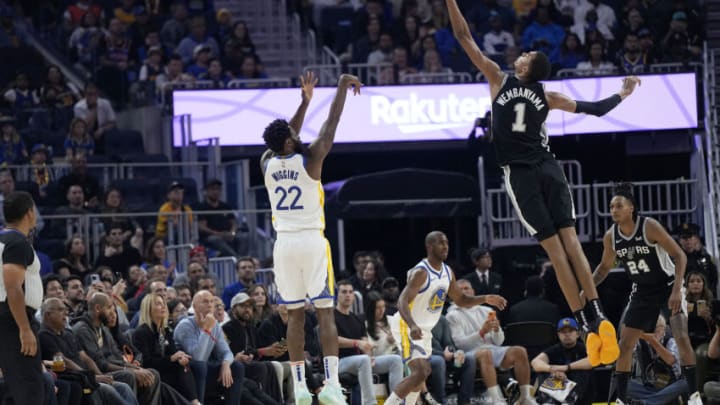 Andrew Wiggins and Victor Wembanyama. Photo by Thearon W. Henderson/Getty Images /
Andrew Wiggins and Victor Wembanyama share something in common.
Right off the bat that likely seems to be a positive comparison. Wembanyama was the No. 1 overall pick in last June's draft, a generational talent who towers above other basketball players with his 7'4″ frame and 8′ wingspan. He's already setting records for his combination of scoring and blocked shots.
What do Andrew Wiggins and Victor Wembanyama have in common?
Unfortunately, Wiggins and Wemby don't share any of the exciting things in common. They may both be No. 1 overall picks, but Wembanyama has Wiggins beat in nearly every statistical category this season despite being a rookie. He is outscoring Wiggins by eight points per game (18.8 to Wiggins' career-worst 10.8), outrebounding him 8.5 to 3.6, and his 3.5 combined STOCKS (steals + blocks) blow Wiggins' 0.5 STOCKS out of the water.
The advanced stats don't connect the two much either, with Wembanyama well ahead in true-shooting percentage (54.8 percent to Wiggins' 44.5), Player Efficiency Rating (17.8 to a truly awful 6.9; league average is around 15) and Box Plus-Minus, where Wembanyama has been a net negative at -2.9 and still is light years ahead of Wiggins' -9.7 BPM.
Fun Fact: Wiggins' -9.7 Box Plus-Minus is the worst in the entire league among qualified players.
If Wembanyama is outplaying Wiggins in nearly every facet of the game, and has nine inches on him, what do the two share in common? The fact that each is better at passing to the other team than to their own teammates.
Victor Wembenyama is currently leading (trailing?) the league in turnover-to-assist ratio, the negative reverse of the more commonly cited assist-to-turnover ratio. For every assist the French phenom connects on, he is turning the ball over twice. His ratio of 2.0 turnovers to assists is the worst in the entire NBA.
Victor Wembanyama of the San Antonio Spurs drives to the basket against Andrew Wiggins of the Golden State Warriors during the second half at Chase Center on October 20, 2023. (Photo by Thearon W. Henderson/Getty Images) /
That makes sense for a player like Wembanyama, who is developing his dribble game and learning the rhythms of NBA basketball as a 7'4″ tower; the ball is easier to poke away, he is going to bang into defenders and get called for a charge, etc. He's also playing with teammates who aren't the most dynamic shooters when and if he did pass them the ball. These are growing pains, and the Spurs aren't competing for anything this year, making it the perfect time for Wembanyama to go through those pains.
The problem for Warriors fans is that the player just behind Victor Wembanyama on that list is Andrew Wiggins.
Golden State Warriors' forward Andrew Wiggins is having a difficult start to the season
Through nine games, Wiggins has totaled just six assists and committed 11 turnovers. That's not a terrible pace of turnovers, but for Wiggins to be a part of the Golden State Warriors he absolutely has to pass the ball — and not simply reset passes or hot potatoes at the end of the shot clock, but passes in the flow of the offense setting teammates up for shots.
Wiggins isn't a dynamic on-ball playmaker or savvy elbow passer, but this is a new low for him. Last season he didn't play his best basketball as he was in and out of the lineup with injuries and a lengthy personal matter, and yet he still managed 2.3 assists per game (more than triple this year's pace) to just 1.3 turnovers, or a very reasonable 1.76 assist-to-turnover ratio.
This year he is averaging about the same number of turnovers per game (in fewer minutes, so he has taken a small step backward) but his assists have absolutely cratered. It's just another indicator of this uncertain and inaccurate start to the season for Wiggins. He looks like he is uncomfortable on the court and the stats back it up.
Can Wiggins play his way back to the old Wiggins, the player who dominated on both ends of the court during their run to the NBA Finals in 2022? The Warriors sure hope so, because they need him to connect the different parts of their roster. He plays an important role on a team that hopes to return to the Finals this season.
Thus far, however, Wiggins has weighed down a good team and is just as likely to throw the ball to the other team than to a teammate in scoring position. That's troubling, and if it continues for long enough this organization will begin to ask some tough questions.