Golden State Warriors: Splash Brothers are the GOAT shooting duo
The Golden State Warriors have the greatest 3-point shooting duo of all-time on their roster.
The NBA is rapidly changing and the Golden State Warriors are largely responsible for the drastic pace-and-space revolution of basketball.
Each year since the 1997-98 season, the league's average 3-point attempts have increased. It grew steadily, only increasing by decimal points for many years. Then, the Splash Brothers emerged as NBA champions in the 2014-15 season and proved that 3-point shooting teams could win titles.
Immediately after the Dubs first championship, the league's average for 3-point attempts jumped by nearly three a game. Only five years later, NBA teams are shooting 33.6 3-pointers a night, almost 10 more than the average in 2014.
The reason? Stephen Curry and Klay Thompson showed the world how impactful the 3-point shot could be. That is why when he was asked who the greatest shooting duo of all-time was, Curry named himself.
On the All Smoke Podcast with Matt Barnes and Stephen Jackson, the group discussed the best shooters of all-time. There is no debate that Curry is the GOAT in terms of individual success but the dominance of Thompson can't be overlooked.
For years, Thompson has been the best heat check player in the association. There is not a single player who generates more defensive attention when on fire from the field. It's simply not possible to slow Thompson down once he hits his stride.
Everyone knows that Curry's name is plastered all across the NBA's single-season 3-point record book. Curry holds five of the 10 greatest shooting seasons ever. His unanimous MVP season is perhaps the best season of all-time, shooting a clean 50/45/90 from the field and drilling over 400 3-pointers.
Meanwhile, Thompson makes two appearances in the top 20 despite being a second and third option for most of his career. His best shooting season came at the same time as Curry's, drilling 276 3-pointers on 42.5 percent shooting.
There is no telling what Thompson's numbers would look like had he been given the green light that Curry was given. Playing as the team's number one option, Thompson may be just as lethal as Curry was.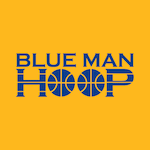 Want your voice heard? Join the Blue Man Hoop team!
Write for us!
Regardless, there should be no debate that the Splash Brothers are the epitome of 3-point shooting duos. We may never see a more deadly combination of 3-point shooting.