Steve Kerr names Michael Jordan and LeBron James as the two GOAT's
Steve Kerr has seen some great players over the course of his career but none have been better than Michael Jordan or LeBron James in his opinion.
ESPN's 'The Last Dance' has done its job in reigniting the GOAT debate. Seeing as how we have had no basketball in over two months, this is a perfect time to talk about the greatest players to ever play basketball. In Steve Kerr's opinion, the GOAT argument ends with Michael Jordan and LeBron James.
"All I know is they're the two best players I've ever witnessed," Kerr said, following the 2018 NBA Finals in which the Golden State Warriors defeated the Cleveland Cavaliers. "They're very different, but however you want to rank them, they're right there together."
Both James and Jordan have unparalleled resumes. The two combine for nearly 10 championships, 30 All-Star Games, 26 All-NBA teams and 9 MVP awards. Jordan is perhaps the league's most prolific offensive talent while James is the most all-around perfected basketball player of all-time.
Kerr is in a great position to give his thoughts on the debate. After all, Kerr spent four seasons alongside Jordan during the Chicago Bulls second three-peat. 'The Last Dance' did a great job chronicling how Kerr adapted his game to coexist along the greatest player to ever exist.
Then, Kerr had a chance to be on the opposite side of greatness as his Warriors battled James in four consecutive NBA Finals last decade. James put up unbelievable numbers in each face-off, averaging 29.7 points, 11.3 rebounds and 8.9 assists per game in his only victory (2016).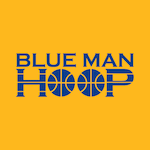 Want your voice heard? Join the Blue Man Hoop team!
Write for us!
While other great players such as Kobe Bryant, Bill Russell, Kareem Abdul-Jabbar, Larry Bird, Wilt Chamberlain and Magic Johnson deserve recognition, it is hard to build an argument that any one of those players deserves a spot higher than James or Jordan on the All-Time list.