Golden State Warriors: Andrew Wiggins can be a great shooter
Andrew Wiggins seems motivated to become everything the Golden State Warriors need him to be. Goal number one is to improve as a shooter.
Continued development will be key in Andrew Wiggins' redemption story. The former No. 1 overall pick has yet to live up to his lofty draft expectations but he has been given a chance at second life with the Golden State Warriors.
The Warriors knew exactly what they were doing when they acquire D'Angelo Russell last summer. Though D-Lo is a talented young prospect, the goal was always to flip Russell for a player that makes more sense for the Dubs lineup. This player wound up being Wiggins.
Wiggins has spent six seasons in the NBA and is constantly ridiculed for being the same skill level he was when he entered the league. His scoring numbers of remained consistent (about 18-20 points per game each season) but he hasn't fleshed out the rest of his game just yet.
It's easy to forget that Wiggins is only 24 years old. There is a real chance he hasn't hit his ceiling yet. One area in which the Warriors will look to improve Wiggins is his 3-point shooting. A recent video clip of Wiggins drilling 17 straight 3-pointers is cause for celebration.
https://twitter.com/SLAMonline/status/1273409598146445312?ref_src=twsrc%5Etfw%7Ctwcamp%5Etweetembed%7Ctwterm%5E1273409598146445312&ref_url=https%3A%2F%2Fsports.yahoo.com%2Fwatch-warriors-andrew-wiggins-catch-025715477.html
For his career, Wiggins is a 33.2 percent shooter from 3-point range. His numbers dropped even lower once traded to the Dubs, where Wiggins hit only 25.0 percent of his catch-and-shoot opportunities.
Clearly, Wiggins understands the importance of becoming a better shooter. There isn't much room on the Warriors for players who can't be trusted to shoot the deep ball. It will be a major point of emphasis for Wiggins and the training staff to bump up his efficiency.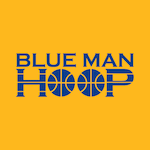 Want your voice heard? Join the Blue Man Hoop team!
Write for us!
The Warriors will be a tough team to beat if Wiggins can become a reliable third option on offense. He clearly has talent, shooting 52.6 percent in the mid-range. Being able to take a few steps back and knock down 3-pointers will go a long way for his career.