Warriors should expect Anthony Edwards to be first-overall pick
It really only makes sense for the Minnesota Timberwolves to take Anthony Edwards at No. 1 and that's what the Golden State Warriors should prepare for.
The Golden State Warriors currently have the No. 2 pick in the 2020 NBA Draft. They entered the lottery with a 14% chance at the top overall pick, and while No. 2 is still losing, it's far better than the Cavaliers who ended with the fifth-overall spot.
In some ways, the Golden State Warriors did win, but the real victory will be what they do with the pick, one that those in league circles expect them to trade.
For now, they need to expect Georgia freshman phenom Anthony Edwards to be the top overall pick and base what their next plan of action with that understanding. Knowing Edwards won't be there could be a huge selling point for Golden State.
That said, the Wolves are building for the future.
They have center Karl-Anthony Towns. They haven't been able to find much success despite Towns being an All-Star multiple times. Even with Jimmy Butler, the Wolves were bounced in the first round.
In keeping Towns' happy and riding themselves of Andrew Wiggins' contract, the Wolves make a deal to bring in Warriors' star point guard D'Angelo Russell. Russell and Towns will serve as the face of the Wolves franchise.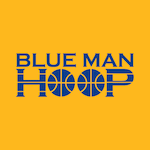 Want your voice heard? Join the Blue Man Hoop team!
Write for us!
They have a point guard; they have a center. The other top options outside of Towns are point guards and centers. It's LaMelo Ball, James Wiseman and Anthony Edwards projected as the top-three selections.
Ball was thought to be the frontrunner, but since the Wolves were able to snag the top spot, Edwards may assume the role. Minnesota is one of the few teams that should be drafting for fit and not best available.
Teams like Cleveland and New York may have taken the player with the highest ceiling.
For Minnesota, it's about getting an instantaneous starter, one that can easily slide into the starting rotation. That said, rewatching film of him dropping a 33-point half against Michigan State may get those not fully on board with Edwards over the hump.
There is no surefire superstar in this year's draft. However, the ceiling is sky-high for several players, one being Ball. The Warriors, knowing they could push Ball, may find arranging a deal with New York or a similar franchise easier.
He's a popular name, and he should bring a big return on the trade market for Golden State.