Warriors "blown away" by Deni Avdija in-person workout
Deni Avdija (Denny Ahv-dee-ya) has been a player the Warriors have been monitoring closely with the No. 2 overall pick in this year's draft.
Thursday morning, members of the Golden State Warriors organization, including head coach Steve Kerr, attended a private, in-person workout and interview with 2020 NBA Draft prospect Deni Avdija from Israel.
This workout was held in Atlanta, Georgia, and was first reported by The Athletic's Ethan Strauss.
Deni Avdija enters the 2020 NBA Draft after playing overseas for Israeli basketball club Maccabi Tel Aviv, one of the more premier basketball organizations outside of the United States.
Over the course of 33 games last season, Avidja averaged 12.9 points, 6.3 rebounds, 2.7 assists per game, shooting 52.6 percent from the floor and 35.3 percent from three-point range.
The 6-foot-9 forward showed off his versatility last season with Maccabi Tel Aviv and was one of their best playmakers both on-the-ball and off-the-ball, which is impressive since he is not a guard.
Check out some of his highlights below:
If the Warriors were not serious about drafting Deni Avdija with the No. 2 overall pick, then they would not have gone all the way to Atlanta and go through the struggles of traveling at the moment to see him in a workout and have the ability to talk with him.
To some, this may seem like a "reach" drafting Avdija this early, but it should not come as a surprise for those who have followed him as he is projected to be the Warriors' selection at No. 2 on nbadraft.net's 2020 NBA Mock Draft.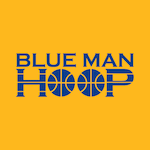 Want your voice heard? Join the Blue Man Hoop team!
Write for us!
Jonathan Wasserman, Lead NBA scout/draft analyst for Bleacher Report, currently has Avdija ranked as the sixth-best prospect in this year's draft class on his 2020 NBA Big Board and has this to say about the young Israeli's game:
"Versatility should create an easy fit for Deni Avdija, regardless of who drafts him. And he shows a willingness to play a supporting off-ball role that calls for spot-up shooting, timely cutting and ball-moving… his ability to attack and pass in ball-screen situations for a 6'8″ forward seems likely to translate to effective downhill scoring and secondary playmaking."
It makes perfect sense for the Warriors to target a wing-player like Deni Avdija in the NBA Draft, and although fans may be skeptical about drafting an international player they have not seen before, it is clear that this kid is the "real deal."
To me, Deni Avdija is a very similar player to Danilo Gallinari, a player that a lot of Warriors fans have been wanting their team to target in free agency.
Avdija's playmaking ability and versatility on the court is very reminiscent of Gallinari's approach to the game. One thing that sets the 19-year old apart is that he is more athletic and seems to be a more polished defender who is comfortable guarding numerous positions.
One thing Deni Avdija can improve upon and will improve upon as he develops in the NBA is his jump shot.
He is not as much of a threat shooting the ball as he is attacking the paint, which NBA teams may try and exploit early on, but around guys like Steph Curry and Klay Thompson, I am sure he will get a few pointers on how to have a successful jumper, seeing as those two know a thing or two about having a pretty decent jumper.
The Warriors are still very much in-play for potentially trading the No. 2 overall pick and either trading down in the draft or landing an All-Star caliber talent since they also have the $17.2M trade exception from trading Andre Iguodala to the Grizzlies last season.
But, Anthony Slater of The Athletic reported last week that the Warriors would only do this is something special popped up. As of now, the Golden State Warriors will be changing a young prospects' life on November 18th as they get set to select No. 2 overall in this year's draft.
Will Deni Avdija be the choice for the Warriors and help propel them to their 4th championship in seven seasons?