Golden State Warriors have perfect package for Kyle Kuzma
Recent reports suggest the Los Angeles Lakers are open to trading Kyle Kuzma if it means surrounding LeBron James and Anthony Davis with more talent. Will the Golden State Warriors make a push for Kuz?
Kyle Kuzma is reportedly on the trading block and the Golden State Warriors have a perfect opportunity to trade for him.
Listen, I wouldn't suggest the Warriors make any sort of trade for Kuza if it wasn't for the fact that Kelly Oubre Jr. is increasingly looking like he is going to leave in free agency. In this case, a sign-and-trade for Kuz isn't the worst thing in the world. Actually, it could be pretty decent compensation for losing Oubre.
Let's start with the truth, Kuzma's stock has dropped recently. Previously the one player the Lakers were reluctant to give up in a trade for Davis (choosing to keep Kuzma over Lonzo Ball and Brandon Ingram), Kuzma is now the odd-man out on a team that is looking to maximize their chances of winning before LBJ is out of the league.
What exactly has gone wrong with Kuzma? Well, he just doesn't fit within the Lakers' offense, at all. He is a ball-dominant player. Kuzma isn't going to have much of an impact offensively if he's standing in the corner, waiting to shoot. Which, for better or worse, is how most LeBron-led teams operate.
Kuzma shot nearly 40 percent from the 3-point line this year but that number dropped to just 17 percent in the playoffs (and 33 percent the postseason before). Kuzma was 4-of-23 from deep against the Phoenix Suns and averaged only 6.3 points per game.
Again, Kuzma's inefficiency mostly came from his odd fit in the Lakers lineup. It is worth noting that he made drastic improvements on the defensive end all season long and actually turned into a positive impact player on this side of the floor.
This is exactly why Kuzma has become an ideal swap for Oubre. He'd likely be more effective in the Warriors' free-flowing, motion offense that would give him plenty of opportunities to create his own shot. And, he's shown a knack for hustle plays. Kuzma's improved defense is the biggest reason he could be of use to Golden State.
Additionally, Oubre is a natural replacement for Kuzma on the Lakers' side of things. Oubre just had the best season of his career as a two-way threat, providing the type of spacing and 3-point shooting that Los Angeles needs around James and Davis.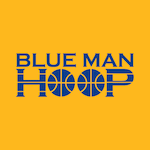 Want your voice heard? Join the Blue Man Hoop team!
Write for us!
A potential sign-and-trade makes all the sense in the world here. If Kuzma truly is available, expect the Warriors to make a call.