Golden State Warriors: James Wiseman should feel motivated
Nothing spurs motivation more than being snubbed. Even if James Wiseman didn't have a great rookie season for the Golden State Warriors, missing the All-Rookie team should be fueling his fire.
James Wiseman was left absent from the NBA's All-Rookie teams and this should be motivation for the Golden State Warriors' center.
The All-Rookie teams were headlined by Rookie of the Year, LaMelo Ball, and Anthony Edwards. Alongside the two breakout stars is Tyrese Haliburton, who had a strong season with the Sacramento Kings. Rounding out the first team are Saddiq Bey and Jae'Sean Tate.
As for the second team, Immanuel Quickley, Isaac Okoro, Desmond Bane, Patrick Williams and Isaiah Stewart capped off what was a surprisingly great rookie class. For all the criticisms of the 2020 NBA Draft being void of talent, plenty of young players stepped up into their roles this year.
And then, there is James Wiseman. It felt as if a ROTY season was destined for the towering center as running the floor with Stephen Curry and Draymond Green should have been an easy path to success. It was as simple as crashing the boards, blocking shots and catching lobs.
However, all of that stuff is easier said than done. For a player as inexperienced as Wiseman, playing on a team with true playoff hopes may have done more to hurt than help his development. He was on a tight leash all season, playing the fewest minutes of any top-five pick and receiving little opportunity to go out and fail — something that is important in the learning process for all rookies.
Wiseman was under a microscope in his first season. It's hard to get away with typical rookie lapses when you're on a team with lofty expectations. As a result, Wiseman didn't really gain a rhythm all season before an injury finally brought his struggles to a conclusion.
Now, in addition to being thrown into all sorts of trade rumors, Wiseman has to accept the reality that he wasn't even named to an All-Rookie team. If that doesn't make him amped up to improve his game, then I don't know what will.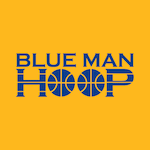 Want your voice heard? Join the Blue Man Hoop team!
Write for us!
It should be noted that Wiseman received three first-team votes as well as 18 second-team votes. This gave him the third most votes of any rookie snubbed from the team. All in all, Wiseman should be feeling motivated to return next year and prove his worth to the NBA.